Are you looking for Scarborough plumbers? Absolute Draining & Plumbing is here to help.
Our licensed, insured plumbers can deal with any plumbing situation: emergencies, installations, inspections, cleaning, and maintenance. We are a local plumbing contractor that understands the needs of the residents in this area. When you have a plumbing emergency in the GTA we are here to help.
Our plumbers have the experience and tools to solve your problem fast. We can also help make routine care of your plumbing affordable. Talk to us about rebates that might be available and discounts for seniors that need to have their home's plumbing taken care of. We quote by the job and not by the hour so when you get a quote from us you can sure that the price will stay locked in. Call us today to discuss how we can help you keep your home's plumbing in great condition.
We provide complete residential and commercial plumbing solutions in Scarborough, Ontario.
Scarborough Drain Cleaning
Homeowners do not often think about their plumbing until there is a problem. Nevertheless, getting the drains in your home cleaned on a regular basis can prevent expensive plumbing emergencies. During routine drain cleaning service, our experienced plumbers will check the pipes and plumbing in your home to look for potential problems.
Getting the drains in your home cleaned out at least twice a year will help prevent clogs from becoming a problem later on. Our plumbers can also pinpoint any pipes that are worn or need replacing before a pipe bursts and causes serious damage to your home.
If you have a clogged drain you'll know it. But there are many signs that a clog is developing that homeowners can miss. Puddles of water on the floor near the dishwasher or under the kitchen sink can indicate a clog. A slow draining tub or shower or seeing water flow back from the sink can also be signs that you have a clog in your drain. If it takes more than one flush to get the toilet clean there could be a clog forming. When you notice any of these signs of clogged plumbing that's the best time to call us.
A professional plumber, armed with the right inspection equipment, can find a drain on the verge of developing a total clog and clean it out. That way you won't have to worry about a burst pipe or other emergency happening. But if you do have a plumbing emergency like a burst pipe call us anytime of the day or night and we'll get a trained plumber right out to you to fix it.
Scarborough Sump Pump Service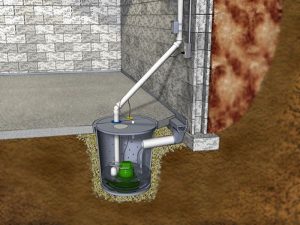 When was the last time you had your sump pump serviced? If it's been awhile, or if you have never had it serviced, now is the time to get it looked at. A sump pump is critically important to preventing basement flooding and preventing sewage from backing up into your basement or yard. During the rainy season and during the winter the sump pump in your home works really hard to keep the water out of your basement. So you should get it checked before the wet weather starts. Then have it checked again after the winter weather to be sure it's working properly.
Many of the older homes in this area have basements that are below the water table. That can cause your sump pump to have to work extra hard to drain the water that flows into the basement. Regular sump pump checkups will prevent major problems and possible floods down the line. If you've had a flooded basement, call us today to check out your sump pump.
Installing a backwater valve may be the answer to keeping water out of your basement. But your sump pump should be checked too. Our well trained plumbers can assess your home's situation and advise you on the best course of action to keep your basement dry and flood free.
Scarborough Backwater Valve Service
If you do not have a backwater valve call us to ask about having a valve installed in your property. If you already have one we can perform routine maintenance on your backwater valve and make sure it's functioning properly.
A backwater valve keeps water from flowing back into your home from the sewer. During storms or during winter runoff the sewers have more water in them than usual. This excess water can end up flowing into your home if there is no backwater valve on your plumbing system. A simple fix will help keep your basement dry and prevent floods. Call us today to get a custom quote for backwater valve service or installation.
Absolute Draining & Plumbing, a plumber Scarborough homeowners and businesses depend on for effective drain & plumbing services.
★★★★★ Experience 5-Star Customer Service from Absolute Draining & Plumbing
★★★★★ Andrew inspected my drain. He was professional, pleasant and punctual.

Toronto, ON

★★★★★ Professional, quick and best priced draining and plumbing company I called.

Toronto, ON

★★★★★ Andrew was terrific.

Downtown Toronto, ON
Have a question? Give us a call, we're here to help