The weeping tile system will help to reduce the water that is present in the soil near the foundation of the home. It is a crucial component in any basement waterproofing setup.
As water collects in the soil, it drains into the weeping tile, which is connected to the sump pump or sewer system. This allows the water to be drained instead of sitting in the soil and either flooding the basement or soaking the foundation. Weeping tile setup works extremely well and can be installed in virtually any location that water needs to be drained from.
This system is fairly straight forward; it is a porous pipe with slits that are buried underground next to the foundation. It is installed in the ground surrounded by gravel that is larger than the slits to prevent the slits from becoming blocked with soil that typically sits on top of the gravel. A special type of cloth (landscaping cloth/garden cloth) is installed surrounding the layer of gravel to ensure that soil does not penetrate into the gravel and cause future problems with the weeping tile.
The majority of older homes have an older weeping tile system that was made using clay pipes. It is very common to see these clay pipes collapsed, rendering the system utterly useless for basement waterproofing purposes. When this is the case, it is important to excavate the entire foundation and install a brand new weeping tile system. Typically, we will also waterproof the foundation at this time, since the majority of properties that need new drainage installed also require their foundation to be waterproofed.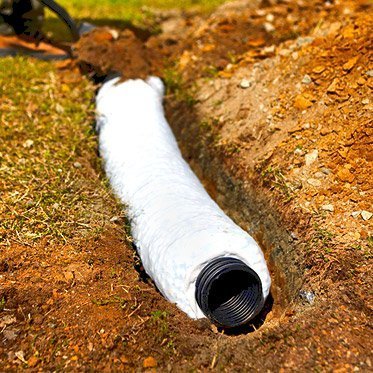 Before installing a weeping tile system, Absolute Drain and Plumbing waterproofing contractors will inspect your property to determine if the weeping tile system is necessary, the type of the system needed and it's location. We will perform all the digging and weeping tile installation with minimal damage to your landscaping and will leave your property clean and protected from flooding.
In order to inspect and clean the weeping tile system in the future, we will often install an above grade cleanout, which is an extension of the weeping tile that goes above the ground.
Thanks to many years of basement waterproofing experience and dealing with aftermath of a basement flood, we know the best weeping tile and waterproofing systems and proper ways to install them. When hiring us, you will avoid unnecessary expenses and ensure a proper protection to your basement.
Absolute Draining & Plumbing provides full basement waterproofing, weeping tile installation, and foundation waterproofing & repair services. For more information please call us at 416-252-5557 or contact us online.
★★★★★ Experience 5-Star Customer Service from Absolute Draining & Plumbing
★★★★★ Andrew inspected my drain. He was professional, pleasant and punctual.

Toronto, ON

★★★★★ Professional, quick and best priced draining and plumbing company I called.

Toronto, ON

★★★★★ Andrew was terrific.

Downtown Toronto, ON
Have a question? Give us a call, we're here to help